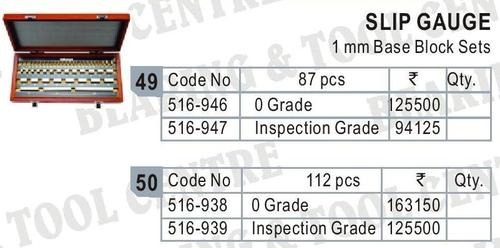 Slip Gauge
Product Code : 516
Product Description
Slip Gauge
1 mm Base Block Sets
| | | | |
| --- | --- | --- | --- |
| Code No. | 87 pcs | Rs. | Qty. |
| 516-946 | 0 Grade | 125500 | - |
| 516-947 | Inspection Grade | 94125 | - |
| | | | |
| --- | --- | --- | --- |
| Code No. | 87 pcs | Rs. | Qty. |
| 516-938 | 0 Grade | 163150 | - |
| 516-939 | Inspection Grade | 125500 | - |
Inspection Certificates
Each Mitutoyo gauge block set is supplied in a high quality wooden case with:
i) Certificate of Inspection (Grade 0, 1, 2, 3, B) or
ii) Certificate of Calibration, and Certificate of Inspection (Grade K only)
CERA Blocks
Corrosion-resistant: The CERA Block is made from zirconiumbased ceramic which will not corrode unless subjected to the most corrosive chemicals. Anti-corrosion treatment is not required when handled normally (i.e. with fingers), resulting in simple maintenance and storage.
Abrasion resistant: CERA Blocks have 10 times the abrasion resistance of steel gauge blocks.