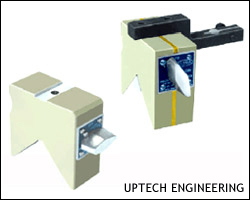 Magnetic Tool Setting Gauge
Product Code : UL-50501
Product Description
• Used with boring bar for presetting of cutting tool.
• Change in setting of the tool measures variation in bore
dimension.
• Suitable clamp is provided for holding dial indicator
(for UL - 50504 & UL - 50505)
• Powerful magnet with ON-OFF facility.
• "V" is hardened & ground within 5 microns.
• The included angle of V is 90º.
• Hardness 52 - 56 Rc.
• Also manufactured as per customer's requirement.
| | | | | |
| --- | --- | --- | --- | --- |
| Sr.No. | Cat No | Size (mm) | Slot (mm) | Range (mm) |
| 1. | UL - 50501 | 72 L x 68 H x 35 T | 14 x 2 | Ø 25 - Ø 70 |
| 2. | UL - 50502 | 76 L x 75 H x 35 T | 14 x 2 | Ø 35 - Ø 90 |
| 3. | UL - 50503 | 80 L x 75 H x 40 T | 14 x 2 | Ø 40 - Ø 105 |
| 4. | UL - 50504 | 100 L x 85 H x 40 T | 14 x 2 | Ø 40 - Ø 125 |
| 5. | UL - 50505 | 120 L x 90 H x 40 T | 14 x 2 | Ø 110 - Ø 180 |