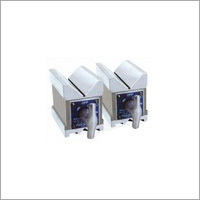 Leakproof Magnetic V Blocks
Product Code : UL-10108
Product Description
Leakproof Magnetic V Blocks
• Used for clamping of round and flat jobs during EDM operation, Light machining, Grinding or Drilling & Inspection
• Accuracy for Flatness, Sqareness & Parallelism within 0.005mm. 120L & 0.010mm. upto 170L of 'v' Block
• Uniform magnetic pull
• Three magnetic surfaces top, Bottom & V faces
• Hardness of V face is 60±2 Rc.
Sr.No.

Cat No.

Size (mm)

Range (mm)

Pull

1.

UL-10106 Hard

120L X 70W X 95H [2"]

Ø 3 - Ø 25

25 Kg

2.

UL-10107 Hard

170L X 75W X 100H [3"]

Ø 5 - Ø 70

125 Kg

Series UL-320 all sides are Hardend

3.

UL-10108 Hard

100L X 70W X 95H [4"]

Ø 5 - Ø 65

100 Kg

4.

UL-10109 Hard

150L X 75W X 100H [6"]

Ø 5 - Ø 70

125 Kg