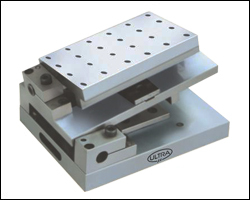 Compound Sine Table
Product Code : UL-40201
Product Description
(IS : 5939 - 1970)
• Compound Angle facility
• Used for Precision measurement, setting of angles & Light machining.
• Accuracy for Square ness, Flatness & Parallelism within 0.010mm upto 200L & 0.015mm upto 450L.
• Angle can be set within ±5 seconds.
• Centre Distance between rollers is within 0.005mm.
• Made from high quality alloy steel.
• Hardness - 60 ± 2 Rc & Tempered.
• Firm hinged clamp to reduce possibility of distortion.
• M6 & M8 tapped holes for job clamping.
| | | | | | |
| --- | --- | --- | --- | --- | --- |
| Sr.No. | Cat No. | Size (mm) | Bottom C.D | Top C.D | Inclination |
| 1. | UL- 40201 | 150 L x 120 W x 95 H | 100 mm | 50 mm | 0 - 45º |
| 2. | UL- 40202 | 250 L x 150 W x 95 H | 150 mm | 100 mm | 0 - 45º |
| 3. | UL- 40203 | 300 L x 150 W x 95 H | 200 mm | 100 mm | 0 - 45º |
| 4. | UL- 40204 | 450 L x 150 W x 105 H | 300 mm | 100 mm | 0 - 45º |